We were given the chance to review Math Mammoth and their Light Blue Complete Series for Grade 2. You can purchase the complete math program from Kagi for $34 in the downloadable version or as a cd version for $39. You can also purchased the printed math curriculum at Rainbow Resource Center for under $50 or under $66 at Lulu.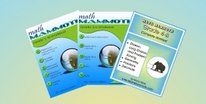 What it contains:
The downloadable version included:
Students A Workbook and the Answer Key contain 5 chapters where they can learn about reviewing numbers up to ten, clocks and calenders, addition and subtraction facts for numbers up to 18, regrouping in addition and the beginning of geometry and fractions. Each chapter also includes a review "test".
Students B Workbook and the Answer Key  contain 5 chapters where they can learn about using three digit numbers, measuring, regrouping in addition and subtraction, money and the last chapter starts on the beginning of multiplication. Each chapter also includes a review "test".
Each of the student workbooks contain a foreword by the author, a little bit about what they will learn, information about the lessons they will be going through and links to helpful resources on the Internet..
Chapter Tests and Answer Key- the 1-2 page test will show how well your child has mastered the math concepts and there is an answer key to check the child's answers.
End of the Year Test and the Answer Key-the 7 page test covers all the math lessons and the answer key will help you make sure that they got the correct answers.
User Guide covers FAQ about the curriculum, how to get started and use the curriculum, how you should pace the program, using the tests, reviews and worksheet maker and how to contact the author.
Online access for more practice worksheets (only available for the downloadable curriculum) contains worksheet for further review of the math concepts presented and online access to a math worksheet generator.
Information on how it aligns with Common Core-shows what MM math concepts align with the Common Core standards.
and a Soft-Pak-
The Soft-Pak consists of 7 programs (4 math, 1 language arts, 2 testing). These are low-graphics, high content, on-task software programs that offer on-screen and printable activities, complete with printable session results for recordkeeping. The Soft-Pak programs are made for Windows XP, VISTA, Windows 7, or Windows 8, and suit best ages 6-13. http://www.mathmammoth.com/soft-pak.php
What we did:
I first printed off both workbooks, the answers keys and end of chapter tests and put them in a big binder. I separated out my daughter and my sons workbooks so that I could easily pull out their worksheet.  Each day that we did math we would work on 2 pages starting in the first section of the workbook. We would read through the little teaching points and I would help them with the math questions until I knew they could understand it. They then finished the work and I was able to grade their work. They reviewed the addition and subtraction facts and worked on learning the clocks and started learning the calender-although they have has a little teaching in that area.
What we thought:
I liked how there were instructions right in each new teaching point. Especially helpful that I didn't have to search for separate instructions and that they did have easy to understand teaching points.
I liked that it reviewed some first grade math and introduced new math concepts and even gets in to advanced work in a simplistic way.
My daughter said she liked it because she "was able to learn about the clocks and calenders" and "that it was kinda challenging" She said there wasn't anything she didn't like it about the workbooks.
My son said he like it because "I thought it was easy" and that he "could learn about clocks." He didn't like it because "at first the concepts felt hard to understand (before reading the teaching points)"
Overall, since my kids like it and I liked how it was presented with the teaching points, I liked using Math Mammoth.